Canon Law

Books

Articles/Reviews

Speaking/Media

Canonistics

Other
Liturgy

Documentation
Catholic Issues

Articles/Reviews

Latin

Greek

Other
Personal

Special Needs

Fine Films

Dessert Wines

In Memoriam

Links
Bio Sketch
Notices/Vendors
E-Mail Webmaster
This website is best viewed 1152 x 864
Edward Peters
Personal

Fine Films
---
Fine Films for the Catholic Home
In these recommendations, "Catholic homes" is not a circumlocution for "children's videos." It is assumed that adults can and should assess for themselves the degree to which various characterizations, plots, dialogue, and so forth reflect sound moral thinking. Indeed, some films, or at least certain events or characters in certain films, teach moral lessons through a via negativa, albeit in an artistically responsible manner. It is further assumed that parents will decide for themselves which films or parts of films might be unsuitable for children of various maturities and experiences. Finally, with due regard for the fact that objective criteria for evaluating films can be, should be, and have been applied herein, the maxim still applies, De gustibus non disputandum est.
The rating system here is simple. Because the films included below are already considered "fine", a single star (

) means it should be seen carefully at least once, two stars (


) indicates that the film well rewards a second watching, and three stars (



) means the film surely deserves three or more viewings.
Explicit Religious Themes/Characters, Non Fiction:
Each of the following films is based on a true story. That is not the same thing as saying that everything in these films happened exactly the way the director portrays it. Poetic license is always in play.
| | | | | | |
| --- | --- | --- | --- | --- | --- |
| Year | Title | Rating | Format | Director | Stars |
| 1917 | Joan the Woman | | [DVD] [VHS ] | De Mille | Farrar |
| 1943 | Song of Bernadette | | [DVD] [VHS] | King | Jones |
| 1956 | The Ten Commandments | | [DVD] [VHS] | De Mille | Heston, Brynner |
| 1964 | Becket | | [DVD] [VHS] | Glenville | Burton, O'Toole |
| 1965 | The Agony and the Ecstasy | | [DVD] [VHS] | Reed | Heston, Harrison |
| 1965 | The Sound of Music | | [DVD] [VHS] | Wise | Andrews, Plummer |
| 1966 | A Man for All Seasons | | [DVD] [VHS] | Zinnemann | Scofield, Shaw, Hiller, McKern |
| 1977 | Jesus of Nazareth | | [DVD] [VHS] | Zeffirelli | Powell, Hussey, etc. |
| 1981 | Chariots of Fire | | [DVD] [VHS] | Hudson | Cross, Charleson, Holm |
| 1993 | Shadowlands | | [DVD] [VHS] | Attenborough | Hopkins, Winger, Mazzello |
Explicit Religious Themes/Characters, Fiction:
| | | | | | |
| --- | --- | --- | --- | --- | --- |
| Year | Title | Rating | Format | Director | Stars |
| 1950 | [Diary of a Country Priest] | | [DVD][VHS] | Bresson | Laydu, Arnel |
| 1953 | I Confess | | [DVD] [VHS] | Hitchcock | Clift, Baxter |
| 1954 | On the Waterfront | | | Kazan | Brando, Malden, Cobb, Stieger |
| 1955 | Marty | | [DVD] [VHS] | Mann | Borgnine, Blair |
| 1959 | The Nun's Story | | [DVD] [VHS] | Zinnemann | Hepburn, Finch |
| 1963 | Lilies of the Field | | [DVD] [VHS] | Nelson | Poitier, Skala |
| 1971 | Fiddler on the Roof | | [DVD] [VHS] | Jewison | Topol, Crane, Frey |
| 1981 | Brideshead Revisited | | [DVD] [VHS] | Hogg/Sturridge | Irons, Andrews, Quick, Olivier |
| 1984 | Tender Mercies | | [DVD] [VHS] | Beresford | Duvall, Harper |
| 1989 | Babette's Feast | | [DVD] [VHS] | Axel | Audran |
| 1989 | Crimes & Misdemeanors | | [DVD] [VHS] | Allen | Allen, Landau, Huston, Orbach |
| 1990 | Alice | | [DVD] [VHS] | Allen | Farrow, Hurt, Mantegna, Danner |
Implicit Religious Themes/Characters:
| | | | | | |
| --- | --- | --- | --- | --- | --- |
| Year | Title | Rating | Format | Director | Stars |
| 1988 | Lion, Witch, and Wardrobe | | [DVD] [VHS] | Fox | Kellerman, Perry, Dempsey |
| 1989 | Broadway Danny Rose | | [VHS] [DVD] | Allen | Allen, Forte, Farrow |
| 2001 | Lord of the Rings: The Fellowship of the Ring | | [VHS] [DVD] | Jackson | Wood, McClellan, Holm |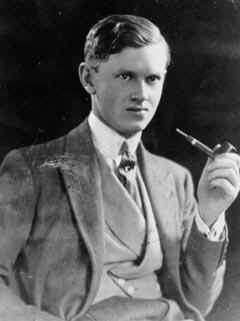 Evelyn Waugh Novels on Film:
"Of all the British and American authors of the 20th century, I think Evelyn Waugh is the only one, with the possible exception of P. G. Wodehouse, who never went out of fashion."- Alistair Cooke
| | | | | | |
| --- | --- | --- | --- | --- | --- |
| Year | Title | Rating | Format | Director | Stars |
| 1960 | The Loved One | | [DVD] [VHS] | Richardson | Morse, Winters |
| 1981 | Brideshead Revisited | | [DVD] [VHS] | Hogg/Sturridge | Irons, Andrews |
| 1987 | Scoop | | [DVD] [VHS] | Millar | Maloney, Elliot |
| 1988 | A Handful of Dust | | [DVD] [VHS] | Sturridge | Wilby, Thomas |
---
Top || Home || Canon Law || Liturgy & Sacraments || Catholic Issues || Personal
---