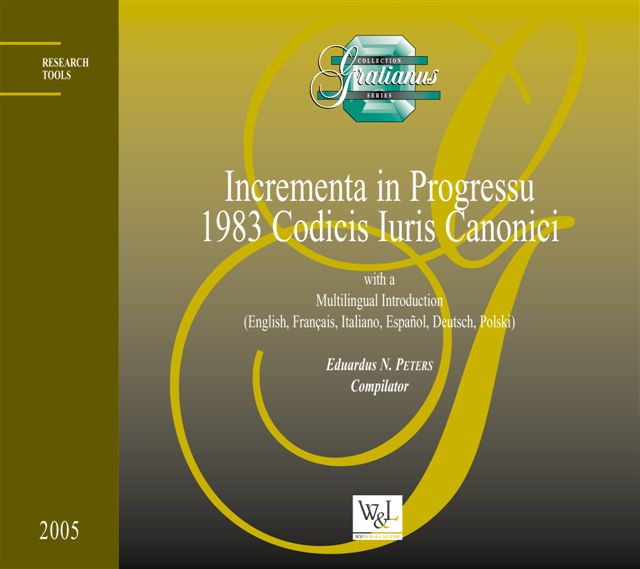 Available from: Wilson & Lafleur (Montreal) or info@wilsonlafleur.com; Midwest Theological Forum (Chicago) or m@mwtf.org
Incrementa in Progressu 1983 Codicis Iuris Canonici, (A Legislative History of the 1983 Code of Canon Law), Foreword by Abp. Raymond Burke, (Series Gratianus, Wilson & Lafleur, 2005) xci + 1549 pp. Emendations, here.
In modern legal systems, analysis of the incremental development of law—its legislative history—sheds important light on how the text of law came about, what alternatives were considered, and why some formulations were accepted while others were rejected. In ecclesiastical law, legislative history is a great aid in applying the fundamental interpretative principles contained in Canon 17 of the 1983 Code of Canon Law, especially in coming to understand the mind of the legislator. Collected and analytically presented here are all of the major legislative texts produced and examined in the course of drafting the 1983 Code of Canon Law, thus making practical for the first time the direct study of the legislative history of the entire revised code.
Dr. Edward Peters, a devoted and highly qualified student of Canon Law, has provided, in his Incrementa in Progressu 1983 Codicis Iuris Canonici, an invaluable tool for knowing the mind of the Legislator ...Those who are concerned with the right understanding and correct application of the canons of Church discipline owe a deep debt of gratitude to Dr. Peters for his latest work of canonical scholarship. For me, a pastor of the Church, Dr. Peters' Incrementa will be a standard reference work. Raymond Cdl. Burke.
Reviews by: J. Huels, Studia Canonica 40 (2006) 261-262; T. Green, The Jurist 67 (1997) 265-267.