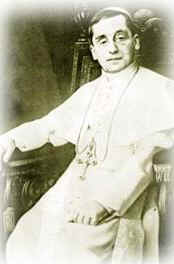 Benedict XV
Pope Benedict XV, alloc. "Quandoquidem" (4 dec 1916), AAS 8 (1916) 465-468.
In this address delivered in Consistory, Pope Benedict XV announced that the codification of canon law was complete, and that he planed a prompt promulgation of the Code, which act indeed followed some six months after this address. Besides underscoring the urgent need for codification of the Church's canonical system, His Holiness made two points: first, that primary credit for the juridical project should be given to his predecessor, the saintly Pius X, and his right-hand man, Pietro Cardinal Gasparri and, second, that even in the midst of the senseless tragedy that was World War One, the Church much keep her eye on matters of internal discipline, and might well set an example worthy of emulation by civil societies by so doing. Below, paragraph numbers and in-text references are mine.
---
[1] Inasmuch as matters from all places are wont to be sent to this Apostolic See for decision, they cannot all be treated, as of old, in Consistory—for they are more frequent these days and many of them will suffer no delay—still, we may retain that outstanding practice we received from our Predecessors, whereby, should something affect the Christian body politic, we may communicate it to you gathered in this solemn assembly. In this vein, it is most gratifying to us to be able to bring to you something so great and opportune for the Church that these days might seem noble to posterity. We speak of the Code of Canon Law, happily [p. 466] completed, which We indeed, in accord with your wishes, we will promulgate as soon as possible. For since that signal day when we in ceremony received the supreme Pontificate [i.e., the papal coronation 6 Sep 1914, following della Chiesa's election on 3 Sep], We rightly remember what was conveyed to Us by our cherished and venerable Brother, Cardinal Antonio Agliardi, when he congratulated us in the name of your great Order [Cf. AAS 6 (1914) 500, wherein Agliardi's famous exclamation, "Da nobis Codicem!" probably occurred].
[2] Certainly, even if it does some others, it does not escape you, Venerable Brothers, how the laws and prescriptions laid down in the providence and care of mother Church, have over the ages, by continual accretion from the beginning until now, swelled to such a mass that it is hardly possible even for those most expert in the law to have awareness and knowledge of all of them. Moreover, many established canons, with the changing of the times, no longer corresponded to manners, and stand in need of apt and prudent correction. So much better, and so good for improving discipline, would be establishing which rights and institutes have force in the Church, so that it finally appeared needful that a code be produced from the laws of the Church, one which could be easily consulted by hand: not only did Bishops and Clergy look for this, but so did all those who gave themselves to the study of Canon Law. Although the Apostolic See had long considered this same project, many great difficulties stood in the way of undertaking it. Evidently it was divinely foreseen that, for such an important service, praise would be owed to the talent of Pius X, our Predecessor of holy memory. You know, Venerable Brothers, with what alacrity of spirit, hardly into his Pontificate, he undertook the vast project, and by what dedication and constancy, while he held the reins of governance in the Church, he pursued it. But if it was not permitted him to complete what he started, he should nevertheless be considered as the one author of this Code, and therefore his name, with Innocent III, Honorius III, and Gregory IX, among the most outstanding Pontiffs in the history of Canon Law, will forever be proclaimed: It will be enough if it falls to us to promulgate what he has done. – Now, for the skills and efforts they brought to the parts of this undertaking, each and every one from the Sacred College of Cardinals, from the order of Bishops, from both [secular and religious] Clergy, and from the ranks of the laity, should have for himself the sign of a grateful spirit from the Vicar of Jesus Christ. By these our words we willingly perform a task and office at once a pleasant and delightful, a task that our Predecessor left for us. But special praise and gratitude must go to our beloved Son, Cardinal Pietro Gasparri, who indeed in the production of the Code was burdened with more than others, [but who] undertook it from the beginning, and extended to it his outstanding abilities, not only his scientific knowledge of the law, but also his perseverance of study and effort, all the which hardly suffered intermission when, as prefect of Public Affairs, he began to take up other serious occupations.
[3] For these reasons, we are confident that this legal project of great weight and surpassing opportunity will work for the great strengthening of the nerves of ecclesiastical discipline: for it restores awareness of the laws of the Church, and therefore will help not a little in their observance, with fruit for souls and advancement of the catholic name. This is obviously true of any human society, and so also does it apply in that civil association of all peoples, so that, where obedience to law is solemnized, there in the folds of peace things can flower abundantly; but where the authority of law is wont to be neglected or spurned, there, trampled by discord and cupidity, both privately and publicly, everything is disturbed. If this requires any confirmation, the course of things in which we find ourselves, confirms it to the utmost. Do not the horrors of this insane war, that devastates Europe, proclaim how much ruin and destruction befalls those who show contempt for the laws by which mutual relations of men are tempered? For, just look, in such a conflict of peoples, which sacred things, or administrators of the sacred, even those of outstanding dignity, and most holy whether by divine law or by the law of nations, are unworthily violated; or how so many quiet citizens are torn far from home, amid the tears of mothers, husbands, and children; or unarmed and wholly defenseless cities are vexed by powerful aerial incursions; all over the earth and on the seas such atrocities are committed that flood the soul with horror and grief. But for Us, deploring this veritable mountain of evils, and again reprobating whatever comes about unjustly in this war, wherever and howsoever it happens, it is a deep desire, and one that God wants to bring about, that in some way through the promulgation of the new Code, contributing to a more tranquil Church, as we hope, with a more fruitful age to arise, so with civil society, with order restored by reverence for law and justice, the looked-for peace will quickly shine out, which, with peoples once again reconciled as friends, will bear the fruit of all goods....